SUSAN TIETZ, TALENTED IN PHYSICS AND ART!
After graduation Susan spent a year teaching physics to high school students at the Winston School in San Antonio, Texas. She then moved to England with her husband and lived there awhile. Back in the USA, in May, 1995, Susan was accepted by the Master's degree program at the Texas A&M School of Architecture. While there she won a traveling fellowship. During the summer of 1997 she spent 6 weeks in Indonesia, 2 months in India, and then moved on to teach at a branch of her University in Italy.
In January, 2004 Susan was working for the Texas Historical Commission as a project reviewer. She "works with county judges and architects to ensure that buildings are restored correctly to a certain preservation standard."
Here's a picture of Susan traveling trough the Andes by bus during a three-week trip to Ecuador.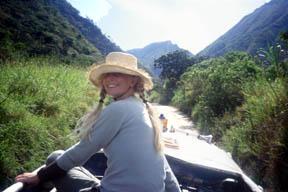 Here's Susan and her husband during a 2006 summer trip to Mexico: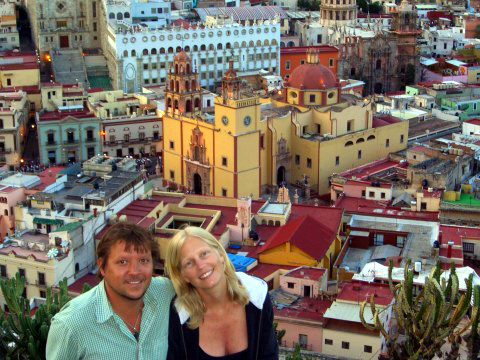 ---
MARI YAMAGIWA, COMPUTER WHIZ!
Mari eventually returned to her homeland of Japan. She worked for a time at a software company in Tokyo. Then she lived on the island of Hokkaido where she taught English and did English-to-Japanese translations. In January, 2000 Mari was accepted to the Masters degree program in Computer Science at East Stroudsburg University where she is working towards an MS degree in Computer Science. In May 2005 Mari was working on the computer services staff at a community college.
---
SARA WOLDEHANNA, SUPER PROBLEM SOLVER!
Sara came to RMWC from Ethiopia. She had great interest in "sustainable development". After graduation Sara earned a Master's degree in Mechanical Engineering at Lehigh University. There she helped write an "expert system" to help utilities meet EPA emission requirements by optimizing operating parameters without losing performance. Sara then worked as a combustion engineer at the Foster Wheeler Energy Corporation where she designed low NOx emission burners for power plants. She described her job as follows: "I do almost everything...I write proposals in order to bid on jobs, do performance design of the burners ..., design experiments to test out equipment, analyze data, do different development projects (e.g. now I am ... developing a software for conducting experiments and analyzing the data), write standards for our group, and even sometimes do some type of really rough market research."
In May, 1999 Sara was awarded the prestigious Tribute to Women and Industry (TWIN) award presented annually to outstanding executive, professional, and managerial women who have made significant contributions to the success of their companies.
Sara then earned a Masters degree in Applied Anthropology at the University of Maryland. She is now doing work related to health issues. In 2004 Sara was a Senior Research Associate with the Global Health Council in Washington, DC.
Here's a 1999 Picture of Sara: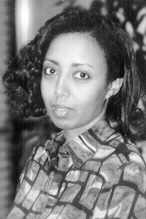 ---
BACK TO MAJORS