CLASS OF 2002
---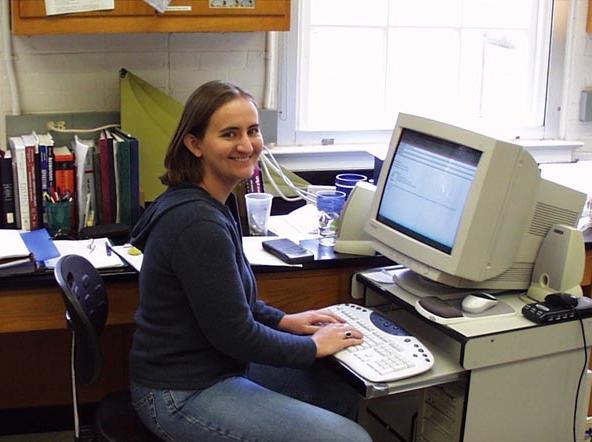 Miranda Dettwyler
---
MIRANDA DETTWYLER - "MAGNA CUM LAUDE, PHI BETA KAPPA, HONORS IN PHYSICS"
Known for her piercing verbal wit, Miranda was often found talking to herself in the physics lab. Prospective Petruchios will enjoy sparring with this Kate! Her fine 112 page senior research paper on cosmology will, perhaps, set an all time record for length and send her off wisely into the universe!
Miranda began her graduate studies towards a Ph.D. in physics in September, 2002 at the University of North Carolina at Chapel Hill where she was awarded a teaching assistantship. After spending a year at UNC Miranda transferred to the University of Texas, Brownsville where she worked on computer modeling of black hole collisions. Miranda received her Master's degree in physics in December, 2004. Her Master's thesis title was: Comparing Methods for Determining Quasi-circular Orbits in Multiple Black Hole Initial Data.
Now Miranda plans to continue her education in architecture school. She has moved to Germany where she is learning German and taking architecture courses.
Update: 4/18/2008: Miranda now lives in Ireland where she is working as scientific editor of Living Reviews in Relativity.
---
BACK TO MAJORS