CLASS OF 2004
---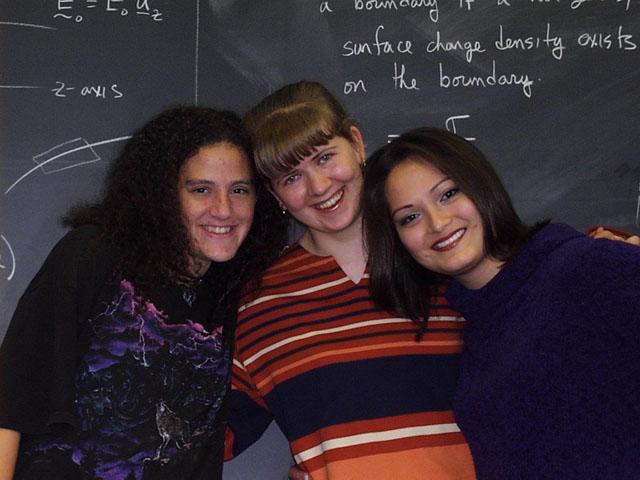 L to R: Sarah Priester, Aliya Gifford, Holly Groover
---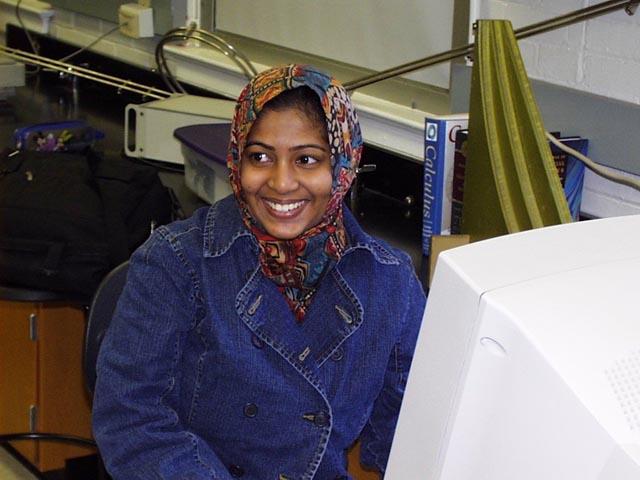 Saba Sattar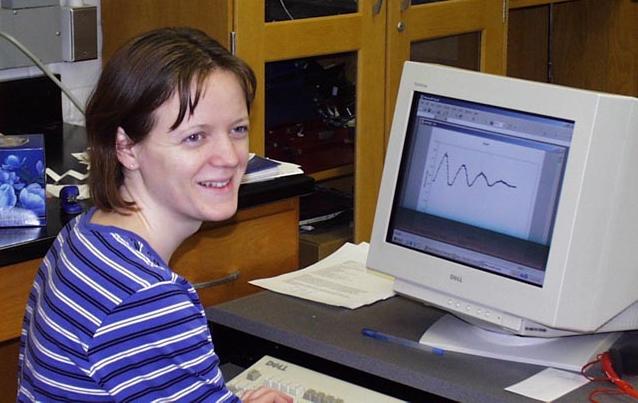 Stephanie Canyon
---
STEPHANIE CANYON - MYSTERY WOMAN
With admirable perseverance Stephanie overcame several obstacles and detours on the road to graduation. Hearty congratulations, Stephanie, and best wishes for your continued journey, wherever it may take you.
Update: January, 2010: Stephanie has been accepted into the masters program in mechanical engineering at Virginia Tech.
---
ALIYA GIFFORD - MODEL STUDENT
Hardworking, trustworthy, and consistently cheerful, Aliya was a wonderful physics student. If there is any justice at all in this world, Aliya will find success as she begins studies toward a graduate degree in physics at Virginia Tech in September, 2004.
Update, July, 2007: Aliyah has earned a master's degree in physics at Virginia Tech. She is looking for a job in research/applied physics.
Update, April, 2010: After working for a time at Johns Hopkins Aliya has been accepted to the Ph.D. program in Imaging Science at Vanderbilt University. She will begin her studies there in September, 2010.
---
HOLLY GROOVER - EXCELLENT IN MANY WAYS!
Holly, a multi-talented student, was master of several disciplines. She solved difficult physics problems and won awards for papers on art history. Holly spent her junior year at the University of Reading in England. During a break at Reading she toured Europe on her own for several weeks to experience the culture and art.
Holly began study toward a Ph.D. degree in philosophy of science at the University of South Carolina in September, 2004. During her successful first year of graduate study she worked as an Assistant Editor of the journal Philosophy of Science. Here is Holly's description of her editorial work:
"Basically, my job is to learn the Chicago Manual of Style through and through ..., and then apply that, along with journal convention, to all the papers that are accepted for publication. That means copyediting manuscripts, corresponding with authors, and then checking three rounds of proofs from the U of Chicago Press for each issue. I also manage the book reviews, which means begging people to review books and also soliciting the publishing houses for free books."
---
SARAH PRIESTER - QUEEN OF DRAGONS
Often mesmerized by computers, Sarah could produce fine work when inspired. During the summer between her sophomore and junior years Sarah participated in particle physics research at Vanderbilt University.
Sarah will take a backpacking trip after graduation. She hopes a bolt from the blue will help her decide on future plans.
---
SABA SATTAR - A WOMAN OF FEW WORDS
Saba, a student from Bangladesh, was frequently seen in the physics lab with her buddy, Tracy Thorn (2003). Saba was always in a hurry. In spite of her repeated lament that physics problems "take forever" to solve, Saba was a good problem solver, completing problems well before eternity came to pass. On a few special days, Saba might even write one word of explanation on her papers, an unusual event indeed!
Saba plans to pursue a masters degree in engineering.
---
BACK TO MAJORS