CLASS OF 2005
---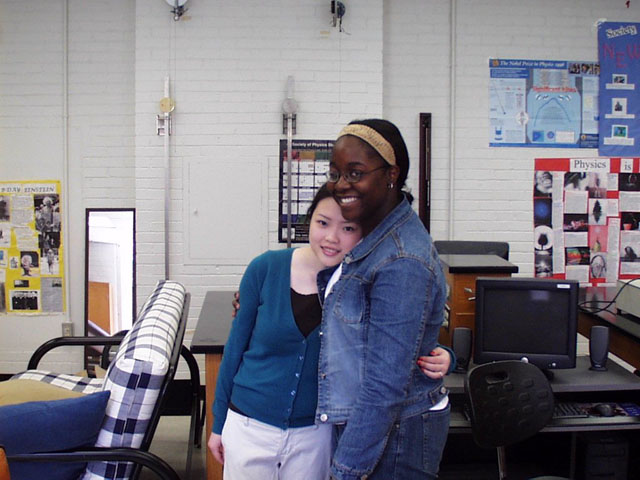 L to R: Weiqin Bao, Tracey Wellington
---
TRACEY WELLINGTON - DEDICATED, AMBITIOUS
Tracey pursues the old-fashioned "American Dream" of success in the old-fashioned way: through hard work and persistence. She displayed outstanding initiative and continually sought opportunities for self-improvement. During the summer between her sophomore and junior years she participated in a summer research program at the College of William & Mary where she analyzed infrared radiation from a blackbody source using a Nicolet Michelson interferometer. During her junior year she studied at the University of Reading in England. Tracey was also a popular physics tutor, engaging her students in Socratic dialogue in a pleasant, non-threatening manner.
Tracey began her graduate study towards a Ph.D. in physics at Texas A&M University in September, 2005.
Update, May, 2006: Tracey has been awarded an NSF IGERT Fellowship for two years! She receives a generous stipend, a tuition grant, health insurance, and travel money! She is heading off to study in Japan for the summer, and she is now pursuing a Ph.D. in Material Science and Engineering.
Update, June, 2007: Tracey has been appointed director of the 2008 Student Research Week. Tracey's doctoral research studies molecular magnets.
---
WEIQIN BAO - MATH WHIZ
Weiqin came to RMWC from distant Shanghai, China. A clever and independent-minded student, Weiqin loves big-city life. She will reside in New York City while attending graduate school in applied mathematics at NYU beginning in September, 2005.
---
BACK TO MAJORS