On May 15, 1965 Jim Ryun ran a 3:58.3 mile during the Kansas State Championships against purely high school competition.
Jim didn't always win. Eventually, he was challenged by another great American miler, Marty Liquori, who also broke four minutes in high school. Here's a picture of high-schooler Liquori with the slightly older Ryun:
On May 16, 1971 Jim raced Marty Liquori in a "Dream Mile", or "Super Mile" at the Martin Luther King International Freedom Games at Franklin Field in Philadelphia.
Here is Marty Liquori's description of this famous race for American mile supremacy:
"There was one false start, we were regrouped and reset, and finally the wait was over, finally there was no more nervous anticipation, there was just the moment, the battle at hand. I settled into fifth place and Jim settled into seventh, we were a pair of boxers feeling each other out, and Joe Savage, a freshman from Manhattan College, led the pack through a sixty-second first quarter. This was slower than either of us wanted, and Jim moved by me along the backstretch of the second lap, burst on the far turn and dropped in behind Morgan Mosser of West Virginia, the new leader, and I followed in his wake, and we were only strides apart when we passed the half in a slow 2:03.

I was ready to jump to the front, but Jim did it first, and I tucked in behind him, and we circled again toward the backstretch. 'I thought the pace was too slow,' he said later. 'I hadn't done much speed work and I didn't think I was ready for an all-out 220 at the end. I guess Marty had the same thoughts. We both figured the way to win was with a long, fast, last half mile.'

He was in full flight now, and he looked strong, and the crowd was on its feet, responding to his spurt, and I knew that any runner's confidence grows when he surges into the lead and hears this reaction, and so I suddenly transformed myself into a barroom brawler. He had thrown the first punch and I instinctively threw a counterpunch. I wanted him to do some wondering. 'Oh, yeah,' my actions said. 'You think that's something? Well, you ain't seen nothin' yet. You want to pick it up? Well, let's really pick it up.'

As soon as we came off the turn I passed him, I pushed even harder, and seven hundred yards from the finish we were both sprinting like a pair of kids running from the cops...

I forced the pace up the backstretch, pulling Jim with me, and then I glanced over my shoulder and spotted him gliding smoothly along. It was a specter I'd imagined often in the past. He looked controlled, under no strain; he was a preying panther awaiting his moment. 'My God,' I thought. 'It's still too slow.'

I accelerated an imperceptible notch, rounded the corner, flew by blurred images in the stands and through the three-quarter mark in three minutes flat. 'He's just sitting on my shoulder waiting to pounce,' I thought. 'Any minute now he's going to eat me up. More pressure. More pressure.'

'I was running scared,' I admitted later. 'That damn slow pace. It suddenly came to mind how he had blown so many other people, mature people like Kip Keino and Bodo Tummler, right off the track. I was afraid the same thing was about to happen to me...'

The crowd was now on its feet and noise was rushing down on us from the deepest caverns of this stadium, and we rounded the penultimate turn and headed up the long backstretch for the last time. I peeked once, twice, then again, I didn't want to kick too soon, I wanted him on my shoulder so I could surge and, I hoped, discourage him. 'Be ready, be ready,' I kept thinking, but still he didn't come, he remained a stride behind. We hit the final turn, we were enveloped by shrieks and squeals, and we headed off of it, and suddenly Jim Ryun was right there on my right shoulder. 'Aw, shit, here he comes,' I thought. 'Hold him off, hold him off.'

'He's dying now,' he thought. 'He's coming back to me.'

'It looked like Jim would take the lead at the break of the turn,' his coach said later.

My head was tilted slightly starboard, and my mouth was open, greedily sucking gulps of air, and my face was a white mask, and my hair was blown back, and my arms were cutting furiously through the air, and inside I was dying. For two strides we were together and then suddenly I was half a stride ahead. 'I was dead,' Jim said later.

'Where is he?' I thought. 'Dammit, where is he? Be ready. Be ready.'

'There's nothing left,' he thought. 'Whoever's left standing at the finish line will win.'

'Where's the finish line?' I thought.

Then I saw it, twenty yards away, but when I reached that point there were still ten more yards to go. 'My God, we're not through yet,' I thought. 'He's still going to get me.' I was worried, I could do nothing but reach down and find something and throw myself forward, and I hit the tape with a funny expression on my face. I felt incredible, but I didn't want to seem too happy, I restrained myself. 'Hell, that's not me,' I finally thought. Suddenly, I was very happy.

If you could capture the emotion of that moment and bottle it and hand it to a young runner, he would spend the next ten years of his life striving for a similar achievement. It was no ephemeral reward, it was not something that would last for five minutes, it was a final coming of age.

I had run the last quarter in 54.6, the last half in 1:51.1 - at the time the fastest ever in a quality mile - and the full distance in 3:54.6, until then my best performance."
From: "On The Run" by Marty Liquori and Skip Myslenski, William Morrow & Co., 1979, pgs. 246-251.
I was fortunate to have finish line seats for this exciting race.The tickets were purchased at the last minute from a scalper outside the stadium. Sometimes you just luck out!
ALAN WEBB
The other one of the two best high school milers ever!
3:53.43!
---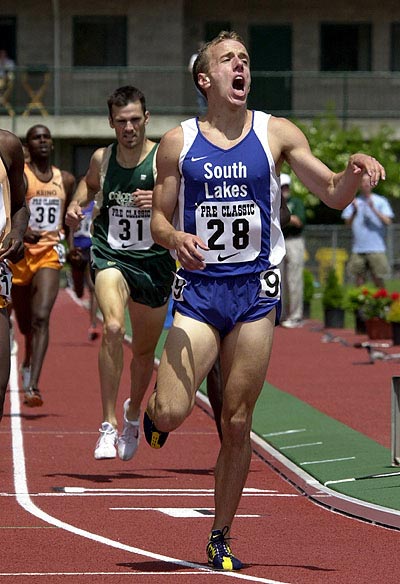 ---
On May 27, 2001 something incredible and unthinkable happened! Alan Webb from South Lakes HS in Reston VA. smashed Jim Ryun's golden record by running a perfect race against Olympic quality competition in the Prefontaine Classic Meet in Eugene Oregon. There is some parallel here with Ryun's 1965 race against Olympic champion Peter Snell because Webb ran against Olympic runner-up and world record holder Hicham El Guerrouj. Webb did not beat ElGuerrouj as Ryun beat Snell, but this moment may come soon!
Webb's split times were: 58.1 , 1:57.8 , 2:58.4 , 3:53.43
His lap times were: 58.1 , 59.7 , 60.6 , 55.0
From a story by Joe Henderson of Runner's World:
"Alan Webb looked totally at home on the Eugene track with his elders and supposed superiors. His waves to the crowd during introductions were those of a veteran. His pace showed poise. He ignored the rabbits and the crowd behind them, dropping to the back field and out of trouble. Webb passed the quarter-mile in 58-plus seconds. Implausible as it seemed at the time, this was almost exactly the pace he would average for the full distance. Then he calmly picked off older, more experienced, supposedly faster runners one by one. Coming into the last half-lap, Webb looked like he might catch everyone but the world record holder. Hicham El Guerrouj was headed toward his least-watched victory. Most eyes were on Webb. The crowd's tributes to him were so noisy after the finish they drowned out the announcer. I thought he might have said "3:55." Webb's time was much better. Onto the scoreboard beside his name flashed "3:53.43." He had broken the seemingly impregnable Ryun record by almost two seconds. One of the first well-wishers to greet The Kid was The King, El Guerrouj. They didn't share a common language but didn't need one. "There were no words exchanged," Webb told reporters. "He just gave me that look, and I gave him that look back." They ran off together, then The Kid broke away for a Fox TV interview. About 15 minutes later he completed one of history's longest and sweetest victory laps. Long after the meet ended, he signed autographs -- often giving his signature to newly star-struck fans twice his age. Alan Webb has become the next great American miler, and maybe the best current one. Suddenly he's the country's fastest active miler of any age and a true contender for the World Championships 1500 team."
Tom Jordan, Prefontaine meet director said:
"When Alan made that move with 350 (meters left) and started picking off world-class runners, I haven't heard an animal roar like that from the Hayward Field crowd since Pre ran in '71."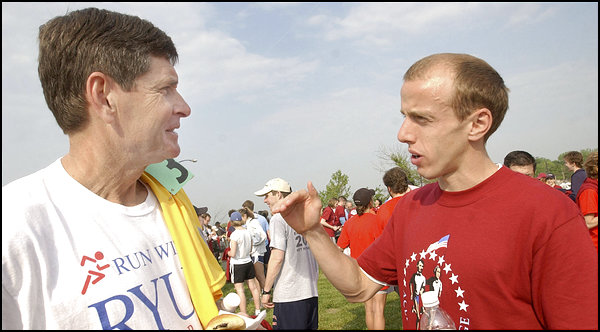 Ryun and Webb talk in spring, 2005
---
BACK TO SPORTS