THE ECLIPSING BINARY STAR UW ORIONIS
---
In 1911 an eclipsing binary star, named UW Orionis, was discovered very near the pulsating Mira variable, U Orionis. Senior physics major, Brantley Dollar, and I decided to observe this star during the spring of 1998. Older sources listed the orbital period to be 1.008 days. Based on this period, we hoped to obtain the entire light curve in 3 eight-hour observing sessions. The project turned out to be more difficult than anticipated! The older sources were wrong! The true period of UW Orionis is 2.038 days! More than 48 hours are required to observe the entire light curve!
During the first 4 months of 1998 we observed UW Orionis on 11 different nights. We made 220 V-filter CCD images, one every 10 minutes during each session. The first 10 exposure times were 45 seconds, and the final 210 exposures were 90 seconds long. This heroic effort resulted in 35.6 hours of observing time covering about 73% of the complete light curve.
The light curve shown below represents many, many hours of work. It does clearly show the primary and secondary eclipses, and confirms that the orbital period is 2.038 days.
---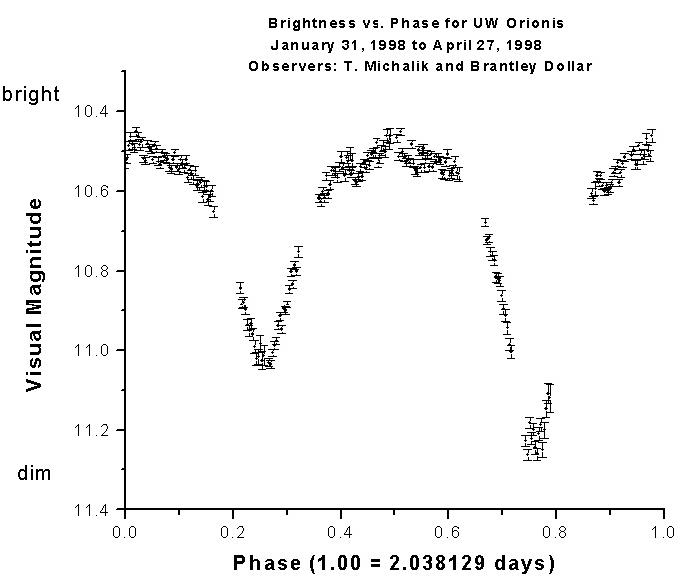 ---