---
Other sites of interest in Bath
Bath Abbey
Our third day in Bath was jam-packed with sight-seeing. Our first landmark is Bath Abbey. This incredible piece of architecture boasts 52 large stained-glass windows. It began as a cathedral, but was reduced in status when the Bishop left his residence in this city of lime. The gothic architecture and intricate stain glass windows are only a few of the boasts of this historical edifice.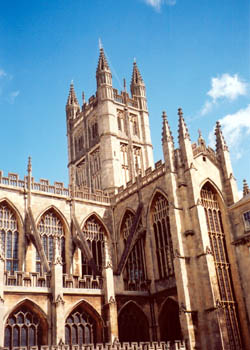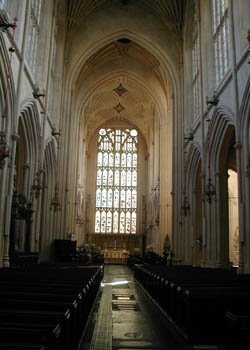 For more information, see the Bath Abbey homepage.
Roman Baths
Our second stop was the Roman Baths. The Baths werenít discovered during Janeís life, but we are able to enjoy them today. Well, they were open from the 1880ís until the 1970ís, when a woman contracted amoebic dysentery from the water and the Baths were forced to close. It is important now that sightseers not touch (or taste) this water.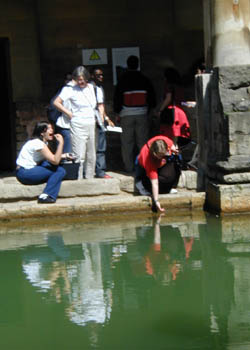 For more information, see the Roman Baths homepage.
---
Text by Michelle Andrews and Jessica Baskin. Photos by Kelly Giles and Rick Spies.
Formatting, design, and layout by Kelly Giles.
---
[Home] [Bath] [Lyme Regis] [Winchester] [Jane's Homes] [The Vyne] [London] [Bibliography] [Reports]