---
Jane Austen in Bath
In Jane Austen's time, Bath was a cultural center, a place for the wealthy to seek the healing agents of the water and air, while increasing their society and social status. The Jane Austen tour went there to find out about Jane Austen's life in Bath.
The pages of Jane Austen are filled with references to places in Bath: the Octagon rooms, the Lower rooms, Edgar's Buildings, Laura-place, and Market-place in Northanger Abbey; Camden-place, Bond-street, the hot-baths, Westgate-buildings, the colonnade on Bath-street, and the famous Union-street where Captain Wentworth re-declares his love for Anne in Persuasion. All of these things were familiar to Jane Austen, so the tour group became familiar with them too. We traversed those streets and made them familiar as a constant reference to our Jane Austen readings.
It it was not only Jane Austen's characters who lived in Bath but Jane Austen as well. On our first "real" day in Bath, we were taken on a walking tour by a lovely Englishwoman named Margaret. Her true class was revealed when she, wearing heels, took us on a three-hour tour. On this tour, we visited Jane Austen's home at number 4 Sydney Place. It closely resembled the typical Georgian home of Bath and was only a few feet away from the beautiful Sydney gardens, a refuge for the country girl in the city.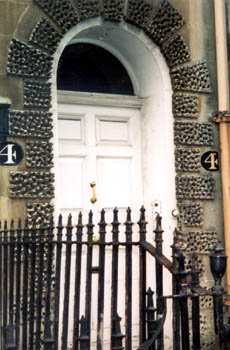 Besides 4 Sydney place, Jane Austen lived at two other locations in Bath as her family wealth decreased and she had to re-trench. Her second home was in Green Park Buildings, where her father took ill and died. Due to a depleted financial situation, she was forced into 25 Gray Street, a home that was less than desirable. Though she had enjoyed Bath as a visitor, she did not overly enjoy it as a resident. This is evident in comparing the view of Bath through the eyes of Catherine Morland, a character created in a place Jane Austen had only visited up to that time, with the view of Anne Elliot, a character created after Jane Austen had lived in and left Bath. Catherine found great joy and fun in Bath, whereas for Anne, Bath was a confusing and somewhat trying place.
Nonetheless, the Jane Austen tour loved Bath and all of its Jane Austen history. This author's sentiments closely resembles Catherine Morland's when she said, "Oh! Yes, I shall never be in want of something to talk of again to Mrs. Allen, or any body else, when I am at home again—I do like it so very much. If I could have but papa and mamma, and the rest of them here, I suppose I should be too happy!" (Northanger Abbey, ch. X).
Great Pultney Street
One of the most remarkable features of Bath is the Great Pultney Street Bridge. Through the years, it has stood firm, even though the bridge has endured several renovations. Paired with the beautiful river, the Great Pultney Street Bridge is a sight to behold. It was on this street that Catherine Morland and the Allens lodged when they made their visit to Bath in Northanger Abbey.
"They arrived at Bath. Catherine was all eager delight;--her eyes were here, there, every where, as they approached its fine and striking environs, and afterwards drove through those streets which conducted them to the hotel. She was come to be happy and she felt happy already. They were soon settled in comfortable lodgings in Pultney-street." (Northanger Abbey, ch. II)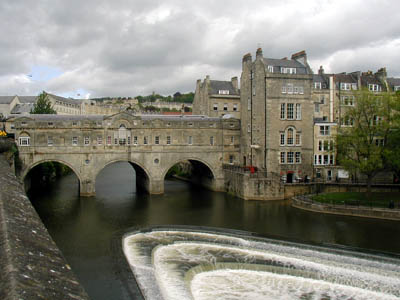 Jane Austen Centre
In Bath, we also toured the charming Jane Austen Centre. The Centre was a tiny, out-of-the-way place with some very detailed displays of life in Jane Austen's day. Of course, the Centre concentrated on the author's time spent in Bath as well as on the two novels she set there: Northanger Abbey and Persuasion.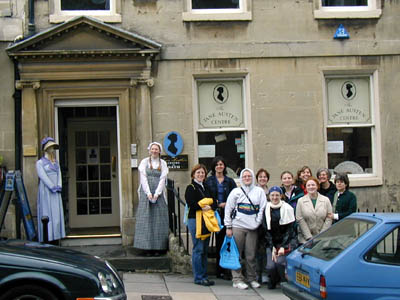 For more information, see the Jane Austen Centre homepage.
Pump Room
The Pump Room, attached to the Roman Baths, is another attraction of the city. The Roman Baths, hidden underground by years of building and improvements, were excavated late in the nineteenth century. Before the Baths were uncovered, though, people did know about the waters, which had been tapped into and used as a source of healing. In order to rid oneself of a "gouty constitution," one visited the Pump Room and drank as much as one gallon of this sulfuric water a day. The Pump Room was a place to mingle in the company of important people in England's society. It was one of the most important places in Bath.
"With more than usual eagerness did Catherine hasten to the Pump-room the next day, secure within herself of seeing Mr. Tilney there before the morning was over, and ready to meet him with a smile:--but no smile was demanded—Mr. Tilney did not appear. Every creature in Bath, except himself was to be seen in the room at different periods of the fashionable hours; crowds of people were every moment passing in and our, up the steps and down…they sat near the great clock, after parading the room till they were tired." (Northanger Abby, ch. IV)
The tour group had an opportunity to "take the waters" when we visited the Pump Room for a real English tea. The pump was still there, pouring forth water, and the great clock still chimed.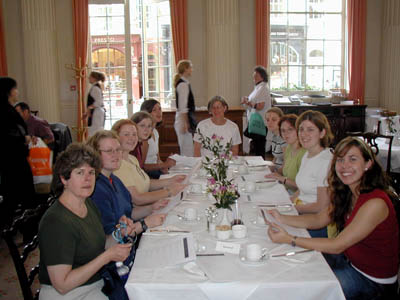 For more information, see the Pump Room homepage.
Royal Crescent
The Royal Crescent, famous for its architecture and situation almost above the city, was another place for the well-to-do of society to visit on Sundays, to promenade and be seen. The Royal Crescent housed the wealthiest visitors to Bath.
"As soon as the divine service was over, the Thorpes and Allens eagerly joined each other; and after staying long enough in the Pump-room to discover that the crowd was insupportable…which every body discovers every Sunday throughout the season, they hastened away to the Crescent, to breath the fresh air of better company." (Northanger Abbey, ch. V)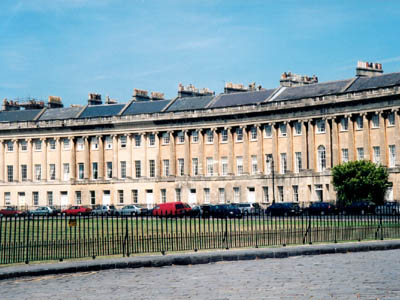 We also visited #1 Royal Crescent, a museum of the Regency time period. The furniture inside was of the period and everything was original. The home wasn't exactly the type of place Jane would stay but nonetheless offered an interesting look into the English life that Jane Austen wrote about.
For more information, see the #1 Royal Crescent homepage.
Upper Rooms
In Jane Austen's time, another important place to be seen was at the Upper Rooms. There, concerts and balls were held at regular intervals. Many of Jane Austen's characters met there for evenings of entertainment and intrigue. Jane Austen herself was an occasional attendee. The Upper Rooms are still used for events such as weddings and concerts. On the lower floor is a costume museum tracing the developments in fashion throughout British history, with a section of the museum dedicated to Regency clothing. This museum is a "must" for those who want to see examples of clothing worn in Jane Austen's day.
Beechen Cliff
We also had the opportunity to visit Beechen Cliff, which is now home to a park situated above Bath. After a substantial walk, we were able to get an incredible view of Bath. This walk was one of Jane Austen's favorites in Bath, a good testimony to the strength and vigor of our Jane.
"They determined on walking round Beechen Cliff, that noble hill, whose beautiful verdure and hanging coppice render it so striking an object from almost every opening in Bath." (Northanger Abbey, ch. XIV)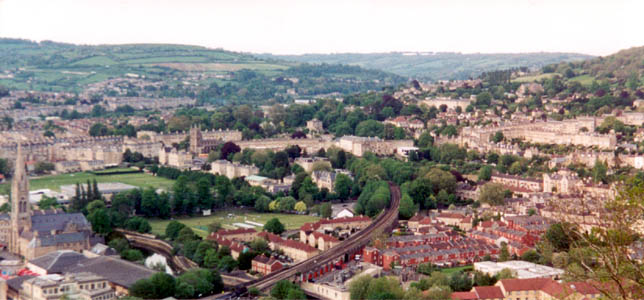 ---
Text by Michelle Andrews and Jessica Baskin. Photos by Michelle Andrews, Kelly Giles, and Rick Spies.
Formatting, design, and layout by Kelly Giles.
---
[Home] [Bath] [Lyme Regis] [Winchester] [Jane's Homes] [The Vyne] [London] [Bibliography] [Reports]