---
Jane Austen in Winchester
Jane Austenís House
A small, yellow house stands next to the main gate of Winchester College. In this house, Jane Austen resided during the last few weeks of her life. Austen was referred to a doctor in Winchester and came with her sister, Cassandra.
"This Discharge was on me for above a week, & as our Alton Apoth did not pretend to be able to cope with it, better advice was called in. Our nearest very good, is at Winchester, where there is a Hospital & capital Surgeons, & one of them attended me, & his applications gradually removed the Evil. The consequence is, that instead of going to Town to put myself into the hands of some Physician as I [should] otherwise have done, I am going to Winchester instead, for some weeks to see what Mr Lyford can do farther towards re-establishing me in tolerable health."
-Jane Austen in a letter to Anne Sharp, May 22, 1817
From Jane Austenís Letters, 3rd ed., Edited by Deirdre Le Faye
One of her last written works was a poem titled "When Winchester Races," which she composed during her residence. She died in this house on July 18, 1817, after staying there for only six weeks, an event commemorated by a plaque above the front door. For our Jane Austen tour group, this was one of the highlights. For our purposes, it was important to see where Jane Austen lived during different periods in her life. A tour guide might tell a visitor, as ours (an expert on Austen named Elizabeth Proudman) did, that she knows which window belongs to the room in which Austen died. Looking at the home from the outside (or from a photograph), it is the window to the left of the plaque.
Unfortunately, the Winchester house in which Jane Austen died is not open to the public. It is now a private residence for one of the teachers at Winchester College and can only be viewed from the outside.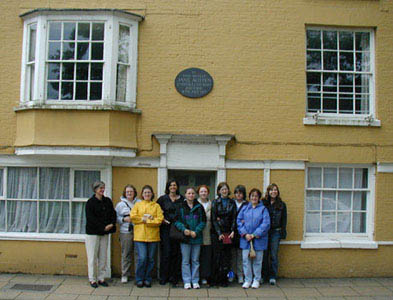 Winchester Cathedral
Winchester Cathedral is a very beautiful cathedral filled with English history. It has been a place of worship for over 900 years. Some of the original Norman architecture can still be seen in the transepts and crypt. The nave was remodeled in the fourteenth century and is said to be the longest in Europe. The cathedral houses many of the tombs of the early English kings. In addition, there are many pieces of sculpture, metalwork, and woodwork as well as the Winchester Bible (which dates to the 12th century) on display in the cathedral.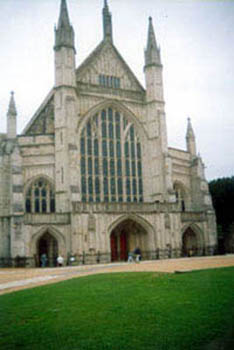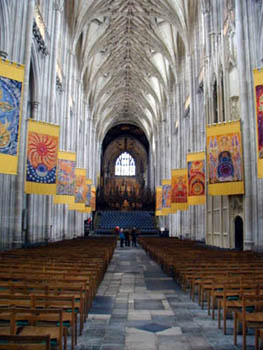 The Cathedral is not only beautiful but was essential to our trip because it is the burial site of Jane Austen. When Jane was ill, she traveled to Winchester with her sister, Cassandra, in order to seek treatment. The doctor was unable to do anything for her, and she died in Winchester on July 18, 1817. As she requested, she was buried in the Cathedral. Austen was one of the last people to be buried in the church and was probably buried there because her brother and father were both clergymen. Jane is buried in he north aisle. Her grave marker does not mention her literary accomplishments. Her stone reads:
In Memory of JANE AUSTEN, youngest daughter of the late Revd GEORGE AUSTEN, formerly Rector of Steventon in this County. She departed this Life on the 18th of July 1817, aged 41, after a long illness supported with the patience and the hopes of a Christian.
The benevolence of her heart, the sweetness of her temper, and the extraordinary endowments of her mind obtained the regard of all who knew her and the warmest love of her intimate connections.
Their grief is in proportion to their affection, they know their loss to be irreparable, but in their deepest affliction they are consoled by a firm though humble hope that her charity, devotion, faith and purity have rendered her soul acceptable in the sight of her REDEEMER.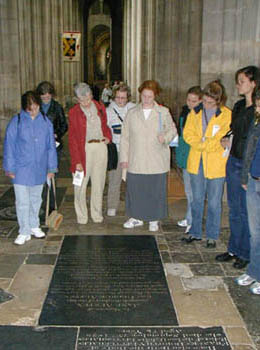 A wall marker, added at a later date, acknowledges her literary accomplishments.
If you have time while in Winchester, I highly recommend attending a service. Some of our group attended Evensong to hear the boys from the Cathedral's well-known choir school sing; it was a lovely and awe-inspiring occasion.
For more information, see the Winchester Cathedral homepage.
---
Text by Laurie Carter and Lauren Emory. Photos by Laurie Carter, Lauren Emory, and Rick Spies.
Formatting, design, and layout by Kelly Giles.
---
[Home] [Bath] [Lyme Regis] [Winchester] [Jane's Homes] [The Vyne] [London] [Bibliography] [Reports]