---
Other sites of interest in Winchester
Hospital of St. Cross
The Hospital of St. Cross was founded between 1132 and 1136. It has always been a charitable institution. In fact, it is Britainís oldest charitable institution. Today, it is a home for elderly gentlemen. Besides the hospital, St. Cross also includes a church and beautiful meadows and gardens. Gravel pathways lead up to the medieval buildings. At the back of one meadow, beyond a large tree under which our group had a picnic, sits a pond with two fountains at either end.
To arrive at The Hospital of St. Cross, one can choose, as we did, to walk through the Water Meadows. The Water Meadows offer a unique view of rural England.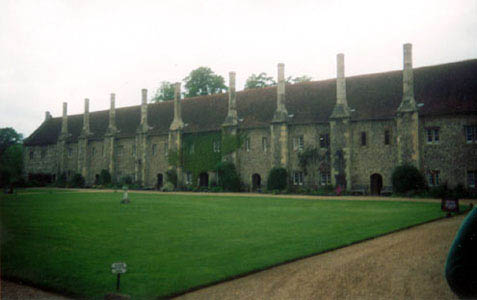 For more information, see the Hospital of St. Cross homepage.
River Itchen and City Mill
Over the River Itchen stands the City Mill. The Mill was built in 1744 and is located across the street from the City Bridge. The City Bridge that currently exists was built in 1813. There is a scenic, shaded path, known as the Weirs Walk, that runs along the River Itchen.
Kingsgate and Westgate
The Kingsgate is one of two surviving city gates. The gate is not far from the house where Jane Austen died and from Winchester Cathedral. Over the archway is a very small church called the Church of St. Swithun.
The Westgate is the other surviving city gate. This gate is a fortified medieval gate. In the 17th century, it became a debtors' prison, and it remained one for 150 years. Today this area is a museum, and prisonerís graffiti can still be seen on the walls. In addition, the museum houses a collection of historic weights and measures. It also offers a great view of the Winchester High Street.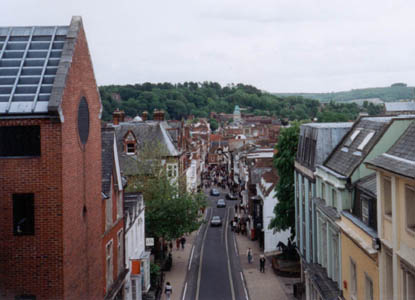 For more information, see the Westgate homepage.
Wolvesey Castle Ruins
While only the ruins of this castle remain, it was once the residence of the bishops of Winchester. It was considered one of the greatest medieval buildings in England. Medieval and Tudor monarchs frequently visited the castle. The last great event to take place at the castle was the wedding feast of Phillip of Spain and Mary Tudor in 1554.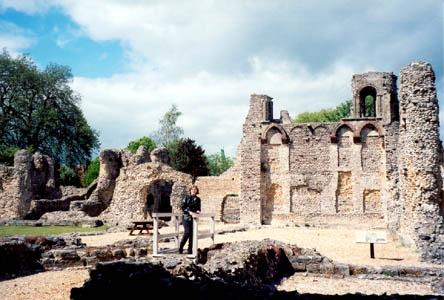 The Great Hall
This is the only part of the medieval Winchester Castle that remains above ground. It was the center of court and government life in the thirteenth century. The round table that is known as King Arthurís Round Table has hung here for over 600 years. While we were visiting, a folk festival was occurring, and we were able to see some period dances from Jane Austenís time performed in the Hall.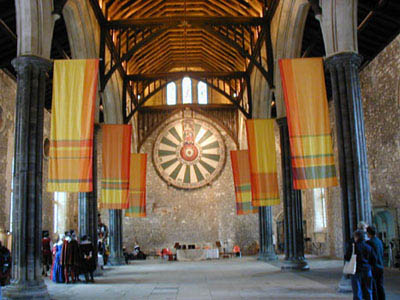 For more information, see the Winchester Great Hall homepage.
---
Text by Laurie Carter and Lauren Emory. Photos by Laurie Carter, Lauren Emory, Ellen Brown, and Rick Spies.
Formatting, design, and layout by Kelly Giles.
---
[Home] [Bath] [Lyme Regis] [Winchester] [Jane's Homes] [The Vyne] [London] [Bibliography] [Reports]