---
Jane Austen in London
In 1796 Jane Austenís travels took her to London. In a letter to her sister, Cassandra, dated August 23 she wrote, "Here I am once more in this Scene of Dissipation & vice, and I begin already to find my Morals corrupted." The view of London as a center of vice is supported in much of Janeís writing. In another letter from the same period she theorized what might happen to her if she were to be stranded alone in London: "I should inevitably fall a Sacrifice to the arts of some fat Woman who would make me drunk with small beer" (letter dated September 18). In the notes to her collection of Austenís letters, Deirdre Le Faye connects this passage to a series of drawings by William Hogarth called "The Harlotís Progress." These can be viewed at http://www.english.udel.edu/grossman/hogarth1.html.
These statements in the letters are, as are many things in Austenís letters, intended to be entertaining and witty. For a more complex view of London, we can turn to Jane Austenís novels.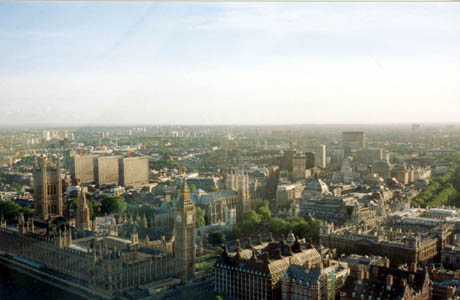 In the novel Sense and Sensibility, the sisters Marianne and Elinor travel to London with an older woman, Mrs. Jennings. This trip brings them into contact with the social world of the fashionable upper class, complete with greed and corruption. The plot of the novel turns around the struggles of the sisters as they learn the strengths and the shortcomings of their own moral systems. In London they meet and interact with immoral and worldly characters such as Robert Ferrars. Both Elinor and Marianne suffer because of the deception and manipulation of such characters. In the end, however, the sisters emerge with a new self-awareness and moral understanding, and (because I find I canít help putting it this way) they live "happily ever after."
In a later novel, Mansfield Park, another set of immoral characters causes disruption in the life of the heroine. Mary and Henry Crawford, sister and brother, come from London as outsiders into the family circle at Mansfield Park, a country estate. Their presence disrupts the family circle of Fanny Price and her cousins, causing great pain for Fanny. Both Mary and Henry try, in a sense, to redeem themselves by attempting to marry the bookís two most moral characters, Fanny and her cousin Edmund. Fanny resists Henryís advances towards her, and Henry ends up causing the ruin of Fannyís cousin Maria. The story ends with Fanny and Edmund getting married. The peace of the Mansfield Park estate is replenished. The characters who have proven to be unredeemable in their immorality are cast out, back to the "Dissipation & vice" of London.
It seems clear that Jane Austen preferred the peace and quiet of a small town like the one she grew up in over the crowds in a large city like London, although both places provided her with material and characters for her masterful novels.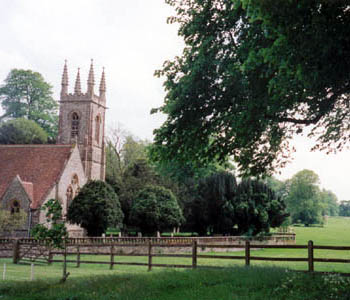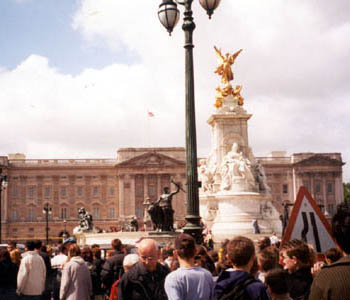 Box Hill
Box Hill was in Jane Austenís time, and still is today, a popular destination for hiking and picnicking. It is located near London. Our group was interested in Box Hill because an important scene from the novel Emma is set there. We rode a train from London, climbed the hill, had a meal of authentic English food provided by Professor Spiesí cousins Katie and Eleanor Schmidt, and then did a dramatic reading of the picnic scene from Emma.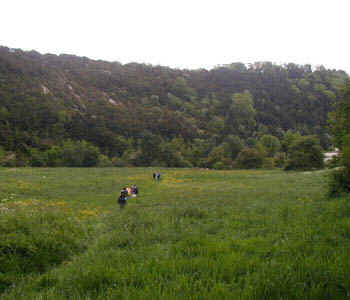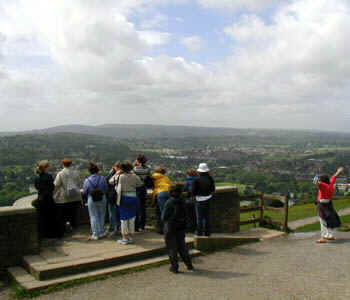 As you can see, we had a very windy day for our picnic on Box Hill. In Emma, on the other hand, "They had a very fine day for Box Hill; and all the other outward circumstances of arrangement, accommodation, and punctuality were in favor of a pleasant party." The difference between our picnic and Emmaís is that we had no problems worse than a few noisy schoolchildren getting in our way. Emmaís picnic, on the other hand, brings together all the characters in the novel who donít get along. Emma behaves improperly, as she has been doing for much of the novel beforehand, but this is the turning point for her, when she begins to feel guilt and question her actions. "Emma felt the tears running down her cheeks almost all the way home, without being at any trouble to check them, extraordinary as they were."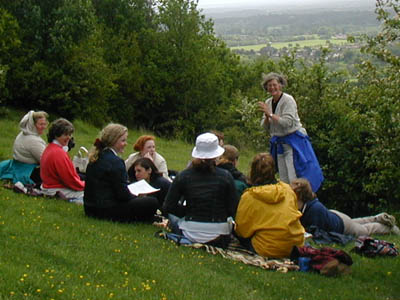 For our group, there were no tears, and we did not go directly home afterwards, but to a production of Shakespeareís Twelfth Night at the Globe Theater. We recommend a visit to Box Hill. It is not a difficult hike, but there is a road to the top for those who are interested. There are beautiful views from the top, and any picnicker can enjoy the knowledge that this has been a pleasure spot since the days of Jane Austen.
National Portrait Gallery
There are only two authenticated surviving drawings of Jane Austen that were made during her lifetime. Both are the work of Austen's older sister Cassandra. One is a back view, the other a small pencil and watercolor portrait drawn in 1810. The latter is now property of the National Portrait Gallery in London. Unfortunately, our group did not get to see it as the portrait was on loan to another gallery while we were in England.

The National Portrait Gallery is free, with the exception of certain special exhibitions, and open to the public daily. However, as our group learned, their Austen portrait is not always on display. You can check its display status at the National Portrait Gallery's page for the portrait.

For opening hours, events, and other information, visit the National Portrait Gallery homepage.
British Library
The John Ritblat Gallery: Treasures of the British Library is home to Jane Austen's personal writing box, spectacles, and two original manuscripts. One is her History of England, a comic piece of juvenilia written when Austen was only 16. It contains numerous colorful illustrations by Cassandra Austen. The other manuscript is Austen's last completed novel, Persuasion. Austen did not like to write in front of other people, and would hide her work as soon as the squeak of her door announced the presence of a visitor. She wrote Persuasion on very small pieces of paper so she could easily conceal the pages when interrupted.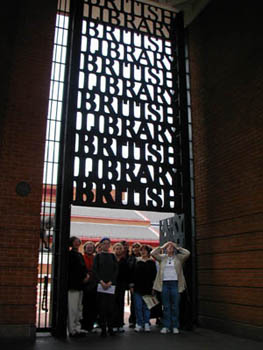 All of the British Library exhibition galleries are free and open to the public daily. The Austen items are part of the permanent collection of the British Library and so should always be on display.
For opening hours, events, and other information, visit the British Library homepage.
---
Text by Ellen Brown and Kelly Giles. Photos by Ellen Brown, Kelly Giles, Aimee Saunders, and Rick Spies.
Formatting, design, and layout by Kelly Giles.
---
[Home] [Bath] [Lyme Regis] [Winchester] [Jane's Homes] [The Vyne] [London] [Bibliography] [Reports]